Confession time: I've been so busy with my "real" work that I've been hard pressed to carve out time to think up a new blog.  If you recall, even the last post (Where you fear to live) was a rerun. So, I decided to dig through my archives again for another oldie but goodie. I found this one, which seems like a perfect follow up to that last blog.  If you already read this, ah well.
 A little over 21 years ago, I went on what I hoped would be a "vision quest," looking for a new direction in my life. It had been rudely interrupted just a few years earlier by a painful divorce that had left me emotionally adrift.  I thought I needed a change of geography, and possibly a new life.  So I went to Greece. 
Why Greece? Don't laugh. I was inspired by a 1989 British romantic comedy movie, Shirley Valentine. Shirley – played by the amazing Pauline Collins who created the role on Broadway and won a Tony for her performance – is a middle-aged Liverpool housewife who is so ignored and taken for granted by her family that she talks to the kitchen wall just to have a conversation. When a girlfriend wins a trip for two to a Greek island and invites Shirley along, she chucks it all and says "yes."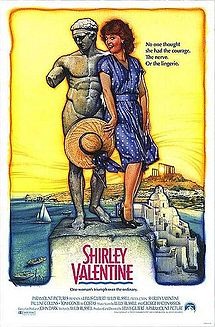 The movie takes off from there, with her girlfriend hooking up immediately and leaving Shirley to fend for herself.  She stumbles onto a taverna, where she asks the owner, Costas, to help her fulfill a dream of drinking wine by the sea.  He obliges with a glass of retsina and a table and chair down on the shore. Reality, she discovers, doesn't live up to the dream.  She delivers a wonderful soliloquy in which she's forced to admit, "I've lived such a little life… I've allowed myself to lead this little life when inside there is so much more."
What unfolds next is Shirley breaking out of her little life. Because it's a romance, the inevitable happens. Costas seduces a bemused Shirley with the funniest pick up lines ever used. She spends the rest of her vacation dallying with him until it's time to leave. But once at the airport, she finds herself unable to go. She turns back and heads to the taverna, where she finds Costas handing the same lines he'd used with her to another tourist. Shirley is amused, because it's not Costas she wants, but her life. So she asks Costas for a job.
The movie ends when her husband, Joe, comes to the island to take her back to England. Walking to the taverna, he doesn't recognize the new Shirley, who watches him as he approaches and thinks dispassionately, "I hope he stays for a while. He needs a holiday." Calling out to him, she invites Joe to sit with her by the sea and have a glass of wine. We don't know if she leaves or stays. I suspect she stays. Whatever the outcome, we know Shirley Valentine has reclaimed her life.
The movie got mixed reviews – Roger Ebert dubbed it "a realistic drama of appalling banality," while a Washington Post reviewer called it "an uncommonly warm, relaxed little movie … with a cloying artificially sweetened aftertaste."
The Post reviewer also said "The story … affords a great many comfortable and comforting laughs, and may even serve as a wake-up call for some." It certainly was a wake-up call for me.  Except, unlike Shirley, I didn't find a new life in Greece, because as Costas said: "Dreams. They are never in the place you expect them to be."
I think I'll get the movie on Netflix and watch it again. 
Talking to the wall
is not such a dumb idea.
Your heart may answer.