I've been trying for well over two weeks to get inspired to write something. Even tried my well-honed skill for writing on demand. I live with deadlines. The difference is, in those instances I get paid to deliver. My blog boss is a skinflint. Thinks I should write for the sheer pleasure of being able to shoot off my mouth at will. Well, the spirit has been more than willing, but the mouth has gone MIA.  
Since today is Memorial Day, I'm more than willing to say RIP to the blog boss.  I'm fresh out of clever ideas.  But I do have the strong Judaeo-Christian thing called guilt. I learned it well in my childhood growing up Catholic in all-girls boarding schools.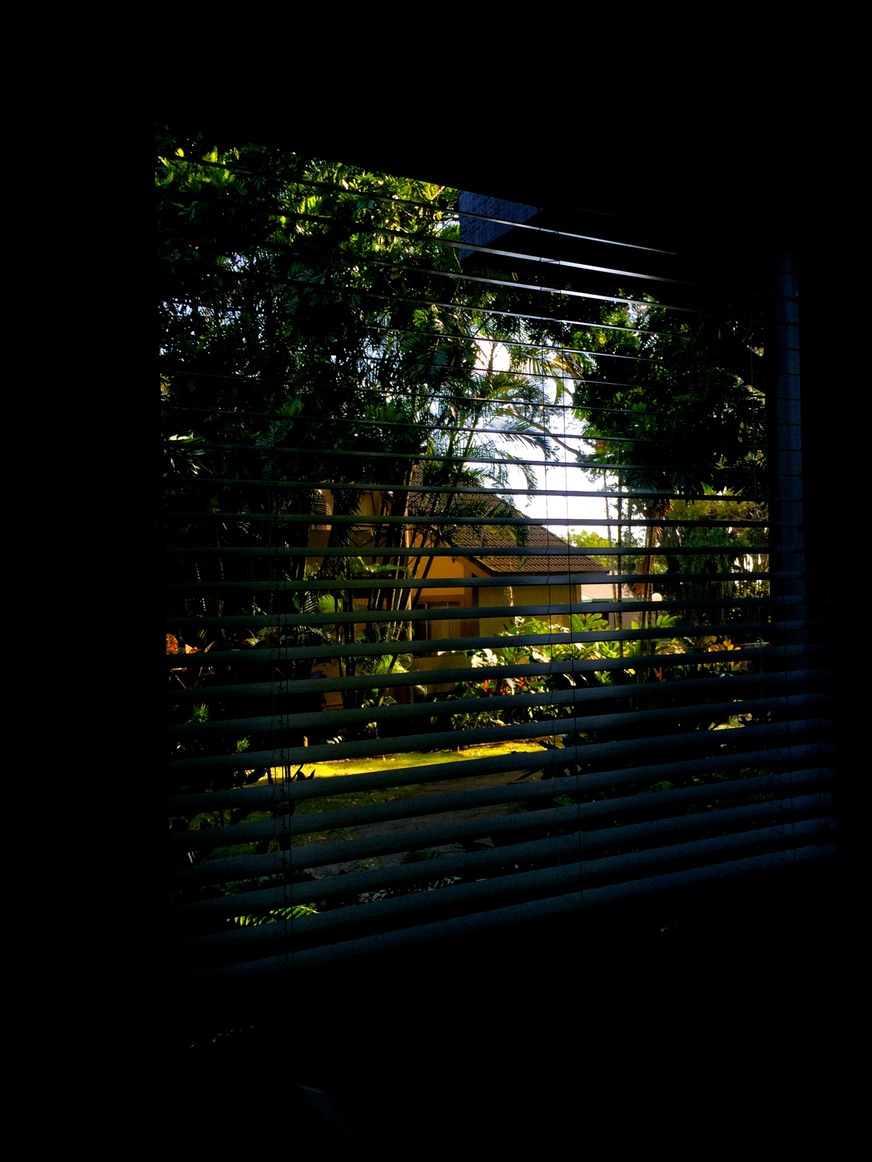 Which is why I'm sitting here staring out my window in desperate search of a topic.  Something. Anything. Well, at least it's a beautiful day.
Speaking of beautiful days. This past Saturday was a lovely day for a Hawaiian celebration of life, and a nice lead-in to Memorial Day. In this case, it was the celebration of the life of Waimea Williams at Na Pohaku o Huawahine, a 12-acre reserve along the  western side of the Kawainui Marsh in Kailua.  
 For 18 years, Waimea was the driving force behind a 20-year-long volunteer restoration effort to remove alien species along with rusting cars and other man-made detritus from this sacred site, and to clean and restore the area with native plants.  What's been accomplished so far is impressive by any measure, but as Waimea would always tell the volunteers, "To be continued …"
The volunteers include inmates from the Women's Community Correctional Facility in Kailua, who were mentored by Waimea. The majority of the women are Hawaiian or part Hawaiian, and she saw this as more than just a work detail. It was a way to help them to reconnect with the `aina (land) and rediscover their cultural roots. With Waimea gone, I hope it is "to be continued …"
 A view of Kawainui Marsh from Na Pohaku o Huawahine
Waimea was an accomplished woman. She was an opera singer who trained in Europe and performed with opera companies in Austria and Germany. She then became a writer, publishing two books – Aloha, Kauai and Aloha, Mozart.  She was writing and completed a third book before she died, which is now being edited.  Waimea was also a serious and accomplished student of Hawaiian culture, language and chant. Indeed, she was so immersed in the culture that I assumed she was part Hawaiian. In fact, Waimea's given name was Sally.
Waimea was also a student of tai chi and a member of our tai chi class. A small contingent came out that day to pay our respects to our fellow practitioner. I didn't know Waimea well. My connection with her took the form of tea. Chai tea in particular.  We would talk about how it tasted so much better when you made your own. I shared my chai tea mix recipe with her. She would later gift me with two huge canisters of Russian tea. This was towards the end when Waimea was no longer able to practice with us. She would show up to sit on the side and join us in the hand movements, which was when I learned that she had been diagnosed with a rare form of cancer. These were the waning days before she could not longer come to class. I believe the gift was part of the process of giving away her things to people she thought would appreciate them. Thank you, Waimea. I later learned that some of her tai chi friends who knew her well would visit her, and make meals and clean for her, as did members of her halau and the Hawaiian group, `Ahahui Malama I Ka Lokahi, that she worked with at Na Pohaku.  I also learned that even the smallest things that connect us, like sharing tea, can have meaning far beyond the gesture.
 I'll remember Waimea as she was on the day she hosted our tai chi group for a little hiking tour of Na Pohaku. Dressed in a flowing long muumuu and hat, she welcomed her guests who were all attired in hiking gear.  After the welcome and a Hawaiian chant, she led us part of the way on the trail before stopping to rest. Her strength had already begun to fade. This was in November 2014.  A little more than three months later, she died.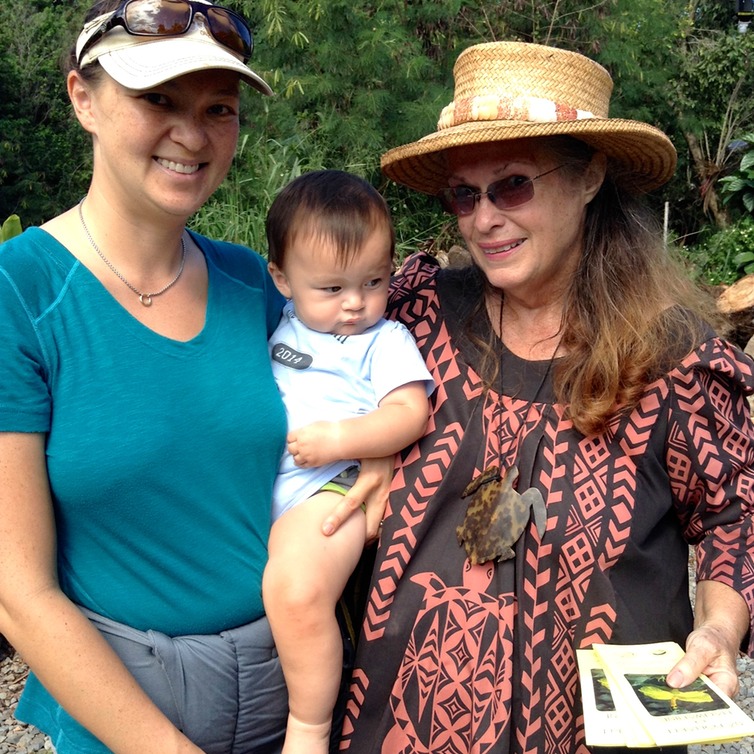 I love this photo of Waimea with Michelle and Blake. He was barely 8 months old and the only keiki on the tour.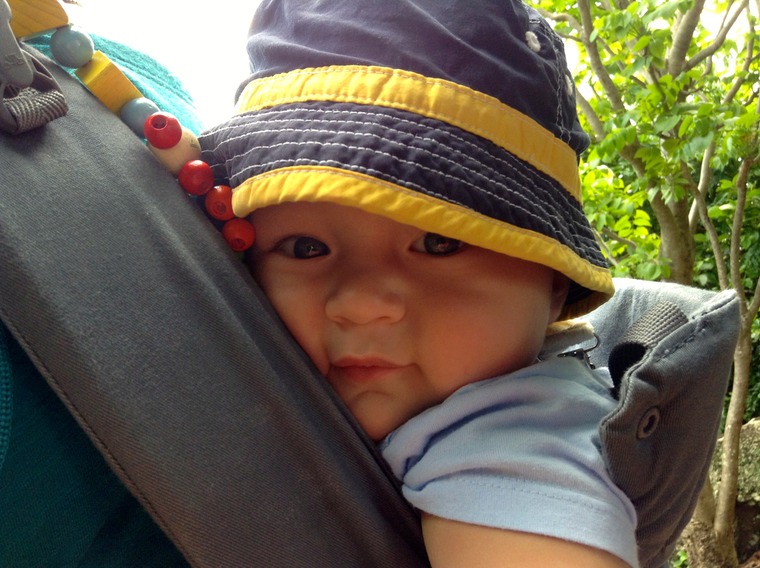 Such a trooper. No fuss at all. Just taking it all in. I hope he will visit Na Pohaku again when he's old enough to appreciate it.
Sorry. What was that about having no idea what to write about? See what happens when you Zen out and let it flow?
Something. Anything.
Always a good place to start.
Look at where it leads.